Welcome to the November issue of ePathway
ePathway is an an e-magazine designed for anyone who is interested in their health and wellbeing and the integral role pathology plays in the diagnosis, treatment and management of diseases.
This month's issue of ePathway will look at the following:
Australia, leading the way in cervical cancer and HPV screening
Pathology, it's in the blood: Dr Bruce van den Heever and Dr Ursula van den Heever
Alpha-1 antitrypsin deficiency – the facts
International Pathology Day 2018
Cervical cancer develops from tissues of the cervix and is the third most commonly diagnosed gynaecological cancer in Australian women. We speak to Professor Annabelle Farnsworth to discuss cervical cancer and the HPV vaccine.
In this month's quarterly 'Pathology, it's in the blood' feature, father and daughter, Dr Bruce van den Heever and Dr Ursula van den Heever discuss how they both came to be in the pathology profession and what it's like to work side by side.
To recognise alpha-1 antitrypsin deficiency awareness month, we speak to Dr Alan McNeil to discuss the important role that pathologists play in the diagnosis of this inherited genetic disorder.
And finally, International Pathology Day 2018 took place on Wednesday, 14 November 2018, with the RCPA hosting an event that had a strong focus on supporting the Government's National Bowel Cancer Screening Program.  The RCPA was joined by Anton Enus, the highly respected and admired reporter for SBS World News, who shared his personal experience with bowel cancer. In addition, Sophie Scott, ABC Medical Reporter, led the event's proceedings; she is also a Bowel Cancer Ambassador.
On a separate note, for those of you who haven't yet seen the RCPA's latest video on pathology, take a look!  The video which features AFL star, Greater Western Sydney player, Sam J Reid, explains the importance of pathology and is aimed at a younger target age group.
Remember to follow us on Facebook (@TheRoyalCollegeofPathologistsofAustralasia), Twitter (@PathologyRCPA) or on Instagram (@the_rcpa). CEO, Dr Debra Graves can be followed on Twitter too (@DebraJGraves).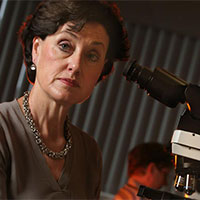 We sat down with Professor Annabelle Farnsworth, professor of pathology, anatomical pathologist and specialist gynaecological histopathologist and cytopathologist, to get the latest on cervical cancer, cervical screening and the human papillomavirus (HPV).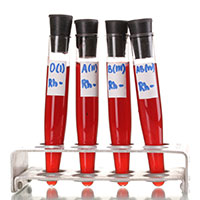 Dr Bruce van den Heever is a chemical pathologist with the Medlab Central group of laboratories and is based in Palmerston North, New Zealand. His daughter, Dr Ursula van den Heever is an anatomical pathologist based in Auckland, New Zealand.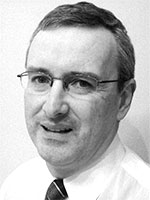 The month of November is alpha-1 antitrypsin deficiency awareness month here in Australia. As this is not a well-known disease in the general community, we spoke to Dr Alan McNeil, a chemical pathologist, to find out more about this inherited disorder, which can cause emphysema and cirrhosis.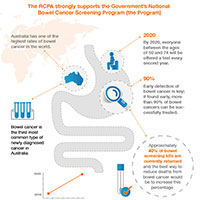 On Wednesday 14 November, pathologists, scientists and laboratories around the globe gathered to celebrate the seventh International Pathology Day (IPD).