All the Australian Red Cross Blood Service wants for Christmas is blood donations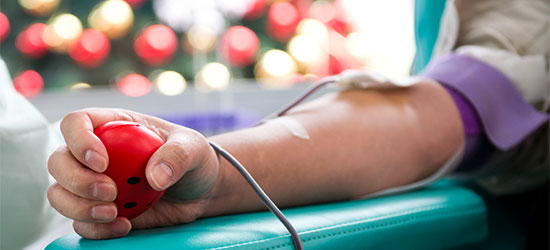 Some Christmas wish lists are very long, but the Australian Red Cross Blood Service has just one 'gift' on theirs – blood donations. We caught up with Dr Joanne Pink, RCPA Fellow, Haematologist, and Chief Medical Officer/Executive Director of Clinical Services and Research at the Australian Red Cross, to talk about blood donations over the Christmas period.
Why is donating blood important at Christmas time when most people are on holidays?
The need for blood never takes a break and donated blood will be needed every day over the holiday season to treat many sick and seriously ill people. Each week Australia needs 25,000 blood donations to help a variety of patients, and Christmas time is no different.
Is this why you have a Christmas Blood Blitz?
Yes. We find that we have a shortfall of donors due to 'holiday mode', so our Christmas Blood Blitz helps us to fill appointments and raise awareness of the need for blood during this critical time of year.
Why is it a critical time of year?
Holidays can be a time of severe road trauma, and although there are fewer of these patients, individually they can need many litres of donated blood.
Can you stockpile blood products to use over the holiday period?
No. Platelets only have a shelf-life of five days. Red cells have a shelf-life of six weeks. Some of the components used by cancer patients are also used daily. In fact, every week over a third of all donations are used by cancer patients. The limited shelf-life and high demand for blood products means they can't be stockpiled. This is why we need a constant stream of blood donors.
What would you say to people who are considering donating blood this Christmas?
One in three of us will need a blood transfusion in our lifetime. The life you save this Christmas could be your own or that of a loved one. If you are a potential first time donor, then it's important to know that blood donation is a simple and easy activity that makes you feel good. It might be the most important 'gift' that you give this Christmas, and we will give you a gift as well; free food and a drink afterwards.
To give blood in Australia between 24 and 31 December, please call 13 14 95 or visit donateblood.com.au. You can find out about donating blood in New Zealand on the New Zealand Blood Service website.
Blood transfusions were covered in the July 2011 edition of ePathWay.