Footballer Sam Reid celebrated International Pathology Day with personal tribute to pathology

The RCPA celebrated the fourth International Pathology Day on November 16 with a variety of guest speakers, including Greater Western Sydney Giants star Sam Reid, who shared their own stories about why pathology is important to them. New position statements were also released on a range of topics, including potentially game-changing care sets for diabetes monitoring.
"International Pathology Day is a day to celebrate pathology including what it brings to the health care table and what pathologists do. It is also a truly international event with celebrations in the UK, the USA, Canada, Hong Kong, Singapore, Malaysia, South Africa and Ireland," says Dr Debra Graves, CEO of the RCPA.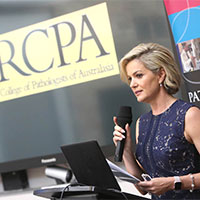 Sandra Sully
In our corner of the world, journalist Sandra Sully, MC for the College's event, used the opportunity to discuss the value of pathology with the guests.
"Pathology plays such an important role in the health and wellbeing of every Australian by assisting in diagnosing and treating disease. By discussing the value pathology plays in the lives of Australians we can create a path to improving early detection of disease, and in turn, save lives," she explained.
Sam Reid shared his personal experience of living with Type 1 diabetes, and the value that pathology has had in his diagnosis and treatment.
"When I was first diagnosed with diabetes, I was oblivious to what it meant for me. My main concern was whether I could still play football and the impact this would have on my life. After numerous tests, a confirmed diagnosis and almost seven years of managing the disease, I now try to be an advocate for those living with diabetes. My key message is to not be ashamed, stay in control, be happy, healthy and active and utilise the professionals around you who want to lend a helping hand," he said.
Mr Reid's story was timely, as one of the position statements released on the day related to new 'care sets' for diabetes monitoring. The other position statements released were Serum Tumour Marker requesting, testing and reporting of results, Genetic testing for 5,10-methylenetetrahydrofolate reductase (MTHFR) and patient expectations of pathologists.
"Pathology is a pivotal part of health care. It diagnoses almost 70% of diseases and all cancers, and guides treatment for a significant number of people. It's certainly worth celebrating the value it brings to society and the difference it makes to so many people's lives," says Dr Graves.
The position statements Annual pathology testing in adults diabetes care, Serum Tumour Marker Requesting, Testing and Reporting of Results, and Patient Expectations of Pathologists are covered in this issue of ePathWay.